Government promotes development of renewable energy
---
2015-10-19
Government promotes development of renewable energy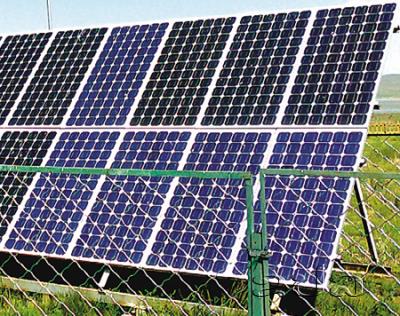 Solar panel
(KPL) The Lao Government is promoting the development of renewable energy such as solar and wind power and allowing foreign and local investors to conduct energy studies on the potential of solar and wind power development in some provinces.
Development in this area will contribute to providing electricity for families, factories, schools and other important places.
Last Friday, the Sengsavan Group signed with the Phonchaleurn Group of Thailand, a Memorandum of Understanding (MoU) to create a factory that will produce glass and glass panes for the production of solar power.
The contract was signed between Dr Khamsen Sysavong, Director General of the Sengsavan Group and Mr Phone Xiangchan, Director General of the Phonchalern Group. The objective for creating this factory is also to produce and distribute different types of solar power equipment in Laos. It is also to help expand the availability of electricity to families in remote areas and for potential investments once Laos joins the ASEAN Economic Community in the near future.
The signing ceremony of the MoU was attended by Dr Bountheuang Phengthavong, Head of the Office of the Ministry of Energy and Mines and Mrs Pimon Bongkongkeo, Ambassador in charge of commerce at the Embassy of Thailand to Laos and some representatives from the Institute for the Promotion of Commerce of Thailand to Laos, and from relevant sectors of Laos.
The first phase of this development and the feasibility study will be conducted in Xieng Khuang Province.
Recently Khammuan authorities have also permitted an enterprise to conduct energy studies on the potential development of solar and wind power in the province. According to the bilateral contract, the feasibility study will be conducted for the five districts of Thakhek, Hinboun, Mahaxay, Nakay and Sebangfai in Khammuan Province.